Why employing for social change is good business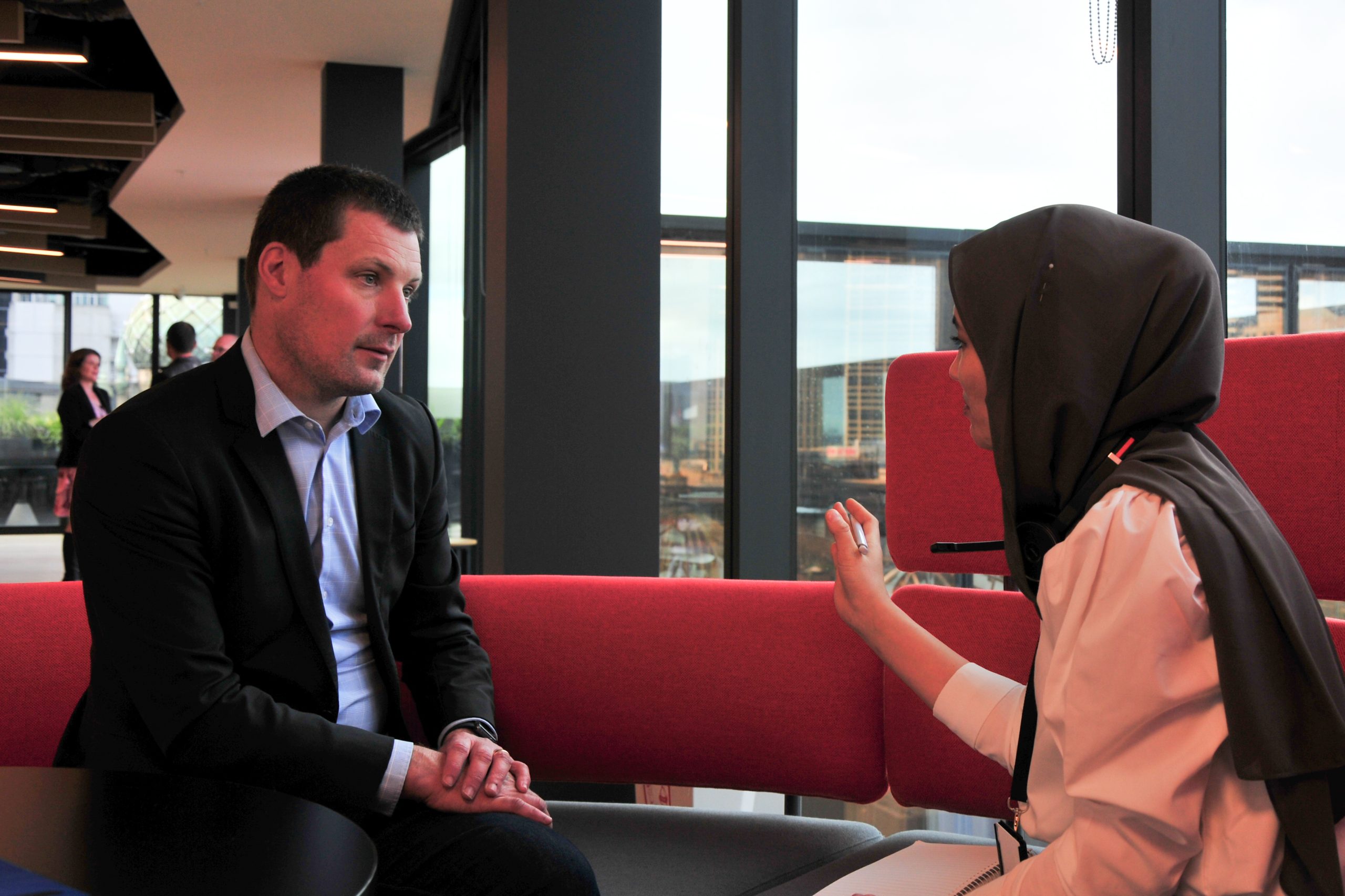 Greg Rafferty's workplace is on the ninth floor of a sleek city building, with enviable views of Melbourne's CBD.  But it is also on the doorsteps of those surviving family violence, seeking asylum, reimagining themselves after military or prison life, or sidelined by prolonged disadvantage.
As the Social Inclusion Manager (Infrastructure and Major Projects) for the John Holland Group – Greg can help people across a threshold of uncertainty and into employment that can bring independence and stability into their lives.
Since 2017, he has been fostering a culture across the construction industry giant that is currently progressing projects worth around $12.3 billion nationally, and expecting to contribute $11.7 billion to the economy between 2021 and 2025.
It is a culture that embeds the thinking that investing in people and community is not only socially responsible, but good business, and something to be proud of.
'It seems like when I came here to John Holland, it was one of those rare things in life where all of those professional and personal things lined up, so all of my passions came together in this one role,' Greg says.
Greg's diverse professional experience includes writing for the television show Neighbours, a children's helpline, Movember and Guide Dogs Victoria, while his studies traverse community development, racism in an Indigenous context, and business.  When combined with volunteering experience in the fields of human rights and mental health, Greg's advocacy for social inclusion is as sincere as it is effective.
It is one of the reasons he has been able to build John Holland's strong relationship with McAuley Works, an employment program run by McAuley Community Services for Women. The program, funded by Jobs Victoria, supports women recovering from family violence into the workforce through application skills and interview techniques, financial assistance for pre-employment training, job matching and a continuous connection after being hired.
Family violence is one of the biggest drivers of homelessness for women and children, with long-term poverty and housing insecurity a significant risk for those escaping abuse.  Employment programs and socially responsible partnerships, like the one between McAuley and John Holland, are critical to breaking that potential cycle.
'One of the things we learnt really early on in our relationship with McAuley is there's no one type of woman who experiences family violence and in terms of McAuley Works, there's no one type of CV; there's an amazing range of qualifications, so in a non-emotive way, it's a pool of talented women looking for employment and you'd be crazy not to tap into it,' Greg says of the relationship.
Two women who escaped abusive relationships and were at risk of homelessness before coming to McAuley, have recently joined John Holland in administrative positions after participating in McAuley Works.
One said enthusiastically of her new appointment: 'It's good to start with such a huge company. I'm starting from scratch in building my career again, and it's a new experience in a new environment, and I feel like there's an opportunity here for me to reach a higher position. I'm going to meet new people and go back to normality in life, away from my past. It will be a new chapter … and I'm excited to take it on.'
As Greg describes it, her attitude is not unusual, and part of the reason the John Holland Group has embraced social inclusion so strongly.
'Candidates coming to us through a social inclusion channel are often very loyal and likely to progress within the organisation; they're ambitious because the opportunity means so much to them.'
Social procurement – purposefully engaging businesses and potential employees from disadvantaged groups and communities – was first introduced as a framework for those seeking to win tenders from the Victorian Government in 2018.
Within two years, the John Holland Group had been recognised with a Social Traders Social Procurement Big Spender Award for continuing to push the agenda despite the challenges of the pandemic, through major projects like the Westgate Tunnel and Mernda rail extension.
Since first adopting the new direction, John Holland has expanded the organisations it works with, now connecting with refugees, veterans, Aboriginal-led companies and job candidates, young people at risk of homelessness, those living with disabilities and former prisoners as well as women who have experienced family violence.
It is promoted to staff through the company intranet, to the public through reporting, brand activities and recruiting, and actively pursued through partnerships.
'When we are employing someone from a disadvantaged background, we are doing what our customer (the Victorian Government) wants us to do but on the other side it's part of our retention strategy because when we're doing it, people want to come and work for us,' Greg says. 'It gives us a unique differentiation.'
There is a level of commitment required of companies aiming to bolster social inclusion, and employers working with the most disadvantaged groups could find it labour intensive but 'if you want to change someone's life … it's a program where that can happen'.
While there has been government incentive for Victorian companies to improve their social practices, the cultural shift at John Holland appears to be cemented on, and the relationship with McAuley stronger than ever.
'As a business, it's our responsibility not only to reflect the community in the way we operate, but also to provide opportunities for people within the community,' Greg says of the company ethos.
'We know that family violence is spread right across the community so if we can make a social change and provide those opportunities to those who need them, we're making Victoria a better place.'
Underpinning it all is a strategy that values support in the workplace and that that continues to be available to the employer and new staff member following their appointment.
'Support is key,' Greg explains. 'It's not a matter of having a job and having a person that wants a job and connecting the two,' he says. 'You need to provide an environment where someone can be themselves but also practical support – whether that's a mentor, access to transport or giving someone a soft landing.
'Hand on heart, we have a culture that has those supports and sets people up to succeed.  We don't have a one hundred per cent success rate, but we don't expect to have that either, and even when someone might feel like it's not successful, it can be.'