Volunteer
Volunteering with McAuley
Thank you so much for your interest in volunteering with us. Volunteer opportunities can be found on our Careers page 
Volunteers are an important part of the fabric of McAuley.  Each volunteer brings skills and experiences that add value to the range of supports and programs that McAuley provides.
Volunteers are drawn to us by a strong desire to give their time to support women and children experiencing homelessness and family violence.
About our volunteering program
Our volunteers are an essential part of our organisation. We couldn't manage without their support.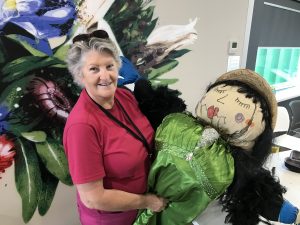 Volunteers help women and children move towards safer, better lives, while also gaining a unique and valuable personal experience. We have a wide range of opportunities for people who can spare three to four hours a week or fortnightly.
We can accommodate business or school hours, weekends, and after hours. There are so many ways to get involved!
Benefits of volunteering
You can expect to:
gain satisfaction from contributing in a meaningful way
use your skills and interests to support women and their children
be a member of a team with shared values and goals
be valued and appreciated by those you work with
learn more about McAuley Community Services for Women and the issues faced by women experiencing homelessness
gain a current reference for future study or employment applications
add work experience to build your resume.
What's more, it's a social environment and while helping others you're sure to still have fun!
When volunteering is a 'no-brainer'
When Catherine Noonan was asked whether she'd be interested in being part of McAuley's new...
Donate now
Help women like
'A force for good'
Real connections through our UHG partnership
Our partnership with Unified Health Group (UHG) is reaping great rewards for the women and...
Donate now
Help women like