New homes, new beginnings
August 27, 2020
Through a partnership with Unison Housing, 14 women supported by McAuley have moved into a brand new housing development in the heart of Footscray.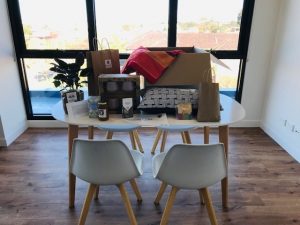 Unison has transformed an old and dilapidated block of 17 small units into 54 brand new self-contained apartments. The 14 women, who had mainly lived in our McAuley Houses Footscray and Ballarat, are now living on two secure women's only floors, and have their own self-contained apartments as well as access to large communal areas and an outdoor garden.
The development is just a stone's throw from McAuley House Footscray, and support will continue for the women as they build their new lives. They will be in a familiar neighbourhood and able to remain connected with social and skill development activities, as well as ongoing support with mental or physical health issues.
Each of the women has previously been homeless, and in most instances their homelessness has been linked to family violence as well as mental illness and social isolation. Their journeys to independent living have been possible because during their time of support from McAuley, the full range of issues they have faced have been tackled.
Many of these have been complex, long-standing and inter-connected.  Seventy one per cent have experienced family violence and a similar number have had mental health problems, with around 21 per cent having had suicidal ideation. Some have also developed substance abuse issues and have dealt with other tragedies such as having a child removed from their care.
For women with these challenges to become ready for independent living has taken a long time, and they have shown remarkable strength and resilience to keep working to overcome these very difficult challenges. Having access to health and mental health services, and the opportunity to learn or regain skills and independence, have been essential in their journeys to wellness and new futures.
The move took place against the backdrop of the COVID-19 pandemic, yet even in these difficult times, extraordinary support from the community helped ease the way. Most remarkably, one 13-year-old girl brought us in over $8000 worth of welcome packages to transform the brand new apartments into homes.
McAuley would like to thank these organisations whose generous support has helped to furnish the women's beautiful new homes:
Harvey Norman
Good360
Kmart and Target
The Reject Shop
Sisters of Mercy
Dream Master
Salvation Army
Man with a Van
Deloitte (volunteering to set up the new homes.)