Generosity through the generations
August 27, 2020
A socially-minded grandmother in Adelaide, concerned about the impacts of COVID-19, who put up a $5000 challenge for the best pitch from her children and grandchildren on ways to stimulate their local economy…
A 13-year-old girl with real empathy for women who are homeless, and boundless energy and enthusiasm to make things happen, who saw the opportunity to support both local businesses and women in need…
Fourteen women supported by McAuley who'd been homeless, and faced a multitude of other challenges, but were now ready to move into new permanent homes, and a future that is exciting but just a little scary.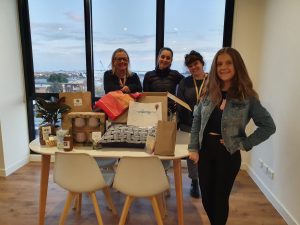 They were the key elements which magically came together when Maddie Hogan (pictured at left with McAuley staff on moving day) put together a successful 'bid' for her grandmother's generosity: a plan to add lovely finishing touches which would transform the McAuley women's new accommodation into welcoming homes.
Even when she was only 11, Maddie had taken notice of the issue of homelessness when she saw a young woman who was sleeping rough and began wondering what more could be done. She saw her grandmother's "grant" as an opportunity to do something that would make a difference.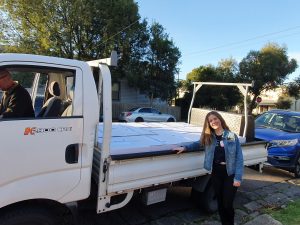 Her mother Carol's call to McAuley on her behalf was perfectly timed; we were working hard to put together furniture essentials for women moving to a new housing development, but we knew the basics were all we would be able to provide.
With her grandmother awarding her the grant, Maddie set to work, approaching local businesses for their support. The brief was clear, to put together a pack of items to make women feel nurtured and supported. Soon the family home was overflowing with the results of her endeavours: hand-made cushions, throw rugs, candles, pot plants and more awaiting the day that the women were due to move in. Maddie's enterprising spirit and negotiating skills had stretched the $5000 further; convincing local businesses hero provide discounts of $3695.
Felicity Pringle, McAuley's Head of Fundraising, Marketing and Advocacy said: 'We're honestly at a loss of how to thank Maddie for the incredible deed she did for us. We know how special and very rare Maddie and her family are.'
'This kind of selfless generosity and effort is not something many people see in their lifetimes. We're thrilled we were the ones to witness at first hand the difference one very motivated and unique teenager can make.'
Thanks to the local independent businesses who helped Maddie
Bee one of a kind:  Pamper packs: wheat bags, face mist, lip balm and soap
Plantsmith: plants and pots
Idrissi and co: throw rugs
Tomboco: cushions