With a little help from our friends – fresh and delicious food still on the menu
May 14, 2020
Our Food For Life program means women living in the House can be involved in
all aspects of planning and cooking meals. As they have been homeless, in many
cases they have been unable to shop for and prepare their own meals for
extended periods of time. Sometimes they've lost skills and confidence in the
kitchen.
Being involved in putting together and sharing meals brings back some of the
pleasures and comforts of food, which may have disappeared in the struggle
simply to survive.
For this reason, the large and welcoming communal kitchen has always played a central role in the life of the House. It was designed as a place for gathering and celebrations.
At least 16 different nationalities are represented among the House's residents at any one time, so it's also seen many multicultural feasts on display as women showcased their own country's cuisine and shared what traditional foods mean in their culture.
Like so many other aspects of community life, COVID-19 has thrown up a few challenges for the Food For Life program. Social distancing has now made aspects of this program impractical, and our usual food donors had other huge demands on their services.
However Food For Life Co-ordinator Amy Sattler was determined to keep the meal selection and range of available ingredients as fresh, nutritious and appealing as possible, though still affordable.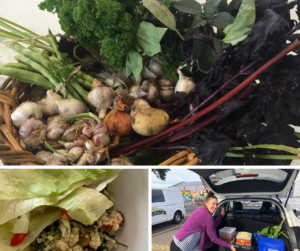 The solution has been an arrangement with McAuley, Victoria's Government House, and not-for-profit vegan restaurant Lentil As Anything. Working together has meant beautiful fresh produce from Government House's vegetable gardens can be collected by a volunteer from McAuley, then delivered to Lentil As Anything where it is transformed into delectable ready-made meals.
Women who choose to independently prepare their own meals in a second kitchen can also make use of the selection available.
We thank both Government House and Lentil as Anything for their generosity.