Tina's going to the World Cup!
April 27, 2019
A few years ago Tina was living at Regina Coeli in North Melbourne, the forerunner to our present-day McAuley House in Footscray.
'I was crying and feeling unwell,' she recalls. 'I was very depressed and unmotivated.'
Encouraged by another resident, her close friend Suzy, she made a life-changing decision to go along to Street Soccer, an initiative of The Big Issue.
She had low expectations about whether this could really help, but thought she 'might as well have a go. It was a way to meet people, get outside, and do something physical.'
Tina hadn't played soccer before, apart from occasionally kicking the ball around at a park when her three sons were young.
'I didn't really know the rules or even how to kick the ball well, but gradually I got better and learnt new skills,' she says. 'I got fitter and I made new friends.
'When you're playing, you forget things. It's social, and it's fun, and something I look forward to each week.'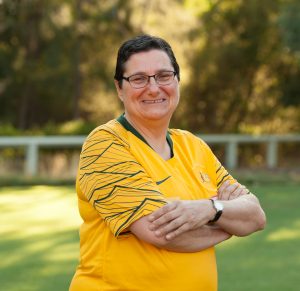 Her soccer friendships and support network were crucial when Tina was diagnosed with breast cancer two years ago. She kept up her connections even when she was undergoing treatment and too unwell to play. Keen to have her back in the team, as soon as Tina went into remission, her coach rang Tina's doctor to confirm that she was 'in the clear' and  ready to take the field again.
Recently Tina headed to Canberra to take part in the annual round robin tournament against a team of Parliamentarians. She noticed the standard really went up a notch, but she must have adapted well as in only five minutes on the pitch, she scored a goal – and some high-fives from her team-mates and opponents.
After the tournament, the national team to represent Australia in the Homeless World Cup was announced. Tina was thrilled to hear that she will had made the team. The World Cup will be held in Wales in July this year, and hundreds of other soccer players around the world will converge on Cardiff for the week-long tournament, the 17th that has been held so far.
'I couldn't believe I was chosen. It's so exciting, and I'm looking forward to meeting new people', says Tina. 'Soccer has really changed my life. If I hadn't given it a go, maybe I would still have been depressed.'
Tina has lived in community housing for the past five years, and her life, she says, is good. She remains strongly connected to our McAuley community and comes to our weekly lunch celebrations, and we will all be cheering for her and the Australian team when July comes around.