When volunteering is a 'no-brainer'
When Catherine Noonan was asked whether she'd be interested in being part of McAuley's new tutoring program for children, she leapt at the opportunity.
As a teacher, she has seen the impact on children when they move schools and how hard it can be to adjust and fit in. And as a long-term volunteer in McAuley's playroom, she could match that knowledge, and her teaching expertise, with an insight into how family violence affects young children.
'In the playroom, though, my role as a volunteer has not been about education; it was just about it being a happy place, where children could feel safe,' Catherine says. 'So when the tutoring program was being established, I was very keen to get involved.'
Catherine, and another volunteer tutor, now make weekly visits to tutor three primary-school aged children. Tutoring began when this family were staying in our family violence support services.  They have moved now into a rental property – and the challenges of settling into a new school.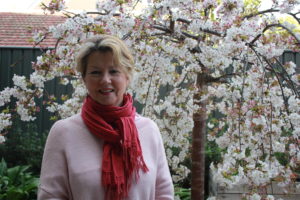 Catherine's teaching skills are invaluable when it comes to tailoring the approach to each of the three children, and their different learning styles and needs. For one of the children who is struggling a little more with schooling, Catherine takes a different tack, finding what will interest her, and making learning fun and relaxed.
The sessions start very informally, and are a chance for a social catch-up and check-in on everyone's wellbeing. The children write or draw a story about their week, before moving onto more structured activities.
The children's mum, born overseas, also appreciates the social nature of the visit, as she settles into an unfamiliar neighbourhood where she is sometimes lonely. She also learns new things to follow through with the children's schooling over the following week.
Catherine's care and generosity to others in the community isn't just confined to McAuley; she also volunteers at The Haven which provides housing to people with mental illness, and with Vinnies' soup van.
As to why Catherine is making this commitment of her time and energy, her answer is: 'Well, why wouldn't you? It's a no-brainer really!

'The tutoring role is not just about academic support . I see it more about building up  trusting relationships with people in the community through consistency of human contact and care.
'I started volunteering as a way of leading by example for my children…..who have grown up in relative comfort and been able to make choices in life.
'I've been lucky in my life and grateful for everything that's gone well for me and my own children. I always feel great after my volunteering. I love the personal connections I make, and I get back more than I give.'
Could you join Catherine in becoming a volunteer for McAuley? 
If you're interested in finding out more about becoming a volunteer tutor, contact our volunteer coordinator directly at kirstym@mcauley.org.au