'The hardest time of my life'
Recovering childhood after family violence
In 2021-2022, more than 32,000 Victorian children were witnesses or affected by family violence.
McAuley's specialised children's program recognises the unique trauma of children experiencing...
Donate now
Help women like
How McAuley supports the mother-child connection
Homelessness and family violence can have powerful impacts on women's capacity to nurture and connect with their children.
Bonding with babies and nurturing young children can be difficult for mothers who are in a...
Donate now
Help women like
WEstjustice partnership leads to alleviation of crippling debts
Financial abuse is common in violent relationships, and can hold women back from leaving and establishing new lives.
The WEstjustice community legal service has achieved amazing outcomes in working with women to...
Donate now
Help women like
Children give our education program a big thumbs up
We've had some rave reviews for our tutoring program - from the kids themselves.
Donate now
Help women like
Natalie: 'now I never have to leave'
A journey from mental illness and homelessness to a new life
Now living in permanent housing in Footscray, Natalie has a sense of optimism about her future.
Donate now
Help women like
'My own place': Alice's new beginning
In 12 months, Alice has rebuilt her life and is now in brand new, and permanent, accommodation built by McAuley.
Sitting in her brand-new, light-filled apartment Alice looks back on the last 12 months and says...
Donate now
Help women like
'The hardest time of my life'
A young mum and her daughter are now safe together after family violence and mental health challenges.
Security, independence and stability – they're the words that 21-year-old Bella* uses to...
Donate now
Help women like
Yasmin's story: 'Baby steps' to a new beginning
Alone in a new country, Yasmin feared for her life after family violence.
While her new home is a 'dream' there were years when Yasmin's life, marred by family violence,...
Donate now
Help women like
Security, independence and stability – they're the words that 21-year-old Bella* uses to describe her situation now as she settles into a new and permanent home through the help of McAuley. 

A young mum with a two-year-old daughter, Ashleigh*, Bella has already faced daunting challenges which she is getting through with strength and resilience. Her daughter's wellbeing is the central focus of her life. 
Bella grew up in foster care, and an accumulation of traumatic experiences, abuse from Ashleigh's father, and other stresses – "it felt like there was one thing after another" – found her recently presenting to an emergency department. There she was admitted to a mental health ward, received a cocktail of drugs, and was released after a couple of days with no discharge plan or follow-up. 
The medications themselves though led to serious complications, and what came next was a nightmare period where Bella kept returning to hospital asking for help. She felt frail, couldn't breathe, and had seizures, black-outs and memory loss. Yet all these were seen as part of her mental health condition while Bella kept trying, unsuccessfully, to insist that these were abnormal reactions to the drugs. She felt stuck in a terrible cycle where she felt she had been labelled incorrectly and wasn't being listened to; in fact was administered with further treatment against her will.  
The one thing Bella was sure of during this spiral was that she needed to protect her daughter, and leave the abusive relationship. She decided to call the police but when they arrived, they discounted what she told them, even though she had evidence on her phone of assaults. Her mental health history meant that instead of arresting her partner, an ambulance was called and Bella was again admitted into hospital as an involuntary patient. 
When Bella was discharged the next time, it was at last acknowledged that the abuse was the cause of her mental health problems. This time when she reached out for help to leave, she found safety. She and her daughter were placed by safe steps in a temporary apartment, and at last she had a reprieve from the cycle of abuse, and hospitalisations that were doing her more harm than good. It was welcome breathing space, though hearing that after 14 days, she would need to go and stay with family and friends – not options for her – made her question at times whether she would end up returning to her partner. 
But another crisis followed, as child protection authorities stepped in and removed Ashleigh from Bella's care, apparently because of her multiple mental health admissions. She was stunned and baffled that at this point, when things were at last looking up, and she and her daughter were safe, and well-supported through McAuley's case management and children's team, this action was taken. 
'I felt like a failure. Even those times in hospital were not worse than this,' she says. It was even more confusing and distressing that Bella was given the option of her daughter staying with a family friend – or her violent father – even though they were living in a refuge to escape his abuse.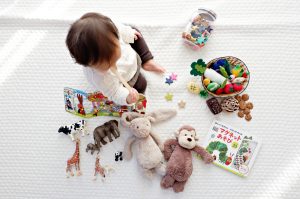 Bella travelled on public transport for six hours to see Ashleigh on her allocated two days a week. Ashleigh was in temporary care with a friend's family, but was allowed to stay with her father on weekends, despite the history of violence. 'I was going to do whatever it takes to get her back, but it was the hardest time of my life, and opened up again all the trauma of my childhood.' 
After two long months, Ashleigh is now back with her mum, and child protection have closed the case. The pair moved a few weeks ago to new a new home in  McAuley's Wilma's Place. 'It would have been impossible for me to get a place to rent; I had low income and no rent history,' says Bella. The ever-present threat of homelessness had prevented Bella leaving earlier, and feels she would have probably kept returning to at least give Ashleigh a roof over her head. 
'I can call this home. I'm not worried about moving around again,' says Bella. Through a flexible support package, she will have driving lessons so she can aim to get a car. In the meantime, Bella and Ashleigh keep in touch with other women and children still living in McAuley refuges. Recently, to mark International Children's Day, mother and daughter went on an excursion organised by McAuley to the zoo, where Ashleigh was very excited to see the lions. 
Bella says: 'I have a close relationship with the workers at McAuley and have found my own sense of family and belonging which I've never had before. I would really like others in my position to know that there is help there when you need it, and even though I had some awful experiences in the mental health system, I did find one place that listened and helped me, so don't be afraid to still reach out and get the right care.'
*names have been changed