McAuley builds on Mercy Legacy, creating a new future at Wilma's Place
March 3, 2023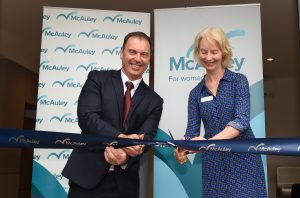 In 1988 when Sisters of Mercy Sr Wilma Geary and Sr Sheila Heywood founded Victoria's first 24/7 crisis accommodation centre in North Melbourne, they could only dream that over three decades later, their legacy would live on. Operating on a shoestring budget, with no government funding, and dependent mainly on the two Sisters' pensions, the house they ran in North Melbourne was often full to overflowing.
Today, McAuley is proud to continue the Sisters' legacy, opening Wilma's Place on the site where the Sisters ran their pioneering service for 20 years.
Opened by the Victorian Minister for Housing, Colin Brooks, the newly completed development boasts 12 architecturally designed one, two and three-bed apartments for women and children who have been homeless.
"This is a very special project for us," said McAuley CEO Jocelyn Bignold OAM. "It is an exciting opportunity for us to expand our range of accommodation to include long-term accommodation options for those most in need.".
The 12 apartments, which will be rented by women led households, have been thoughtfully designed by IN8 Architects to create a living environment that facilitates the best possible outcomes for families. Each apartment has a six-star energy rating, an open plan, fully appointed kitchen and dining area; main bathroom complete with a bath, and ensuites in multi-room apartments; secure entry and intercom systems; and a balcony with views of Maribyrnong and surrounds. Centrally located and close to the Maribyrnong River, families can enjoy local walking trails and parks as well as access to major shopping centres, schools and public transport.
Family violence is the biggest, and growing, cause of homelessness in Victoria. Last year 31,019 adult women and 14,757 children presented to homelessness services in Victoria as a result of family violence.
"Creating accommodation options like Wilma's Place, which can house up to 26 women and children, is more important than ever," said Jocelyn. "We are honoured that we can continue to realise the Sisters' work, affording those families most at risk of homelessness the security and stability of their own home as they continue to rebuild their lives."
Expanding appropriate accommodation options for women and children who are exposed to violence and homelessness is a core strategic pillar for McAuley. The development of Wilma's Place follows the launch of McAuley's critical crisis accommodation, Heywood House, in October last year which further expanded McAuley's extended services, including legal, financial and employment support as well as specialised children's programs.
The development of Wilma's Place has been possible thanks to funding by the Victorian Government's Building Works Stimulus Program and the Lord Mayor's Charitable Foundation.
We thank Balmain & Co for their quality workmanship in delivering this exceptional development on our behalf.