"A good lunch" was actually great!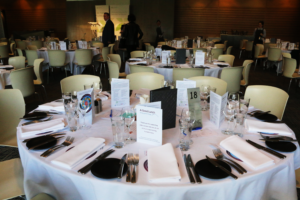 A Good Lunch held on 29 August 2019 at Zinc Federation Square turned out to be a "great" lunch in more ways than one, with over $20,000 raised and the spotlight placed on the growing problem of older women becoming homeless.
Over 280 guests arrived for bubbles and enjoyed a delicious two-course fundraising luncheon at Zinc at Federation Square.
The buzz and the energy in the room as guests mingled only subsided when the terrific MC, Van Badham, entertained us and informed us. Van busted some long standing myths for us with facts and real stories about the fastest growing homelessness group in Australia- namely women aged 55 and over.
Van shared with us the multiplying risks factors of homelessness for older women that range from systemic to personal issues contributing to this rapidly growing problem. The undisputed conclusion is the current lack of affordable, appropriate and secure housing for older Australian women. This was a compelling message making an impact on the hearts and minds of all present.
Over the two hours, with the rousing help of our entertaining guest, Matt Tilley, from Nova FM, over  $20,000 was raised – an extraordinary outcome and one that will make a real difference to our capacity to support older women at risk of homelessness.