Our CEO Jocelyn Bignold receives OAM
February 10, 2020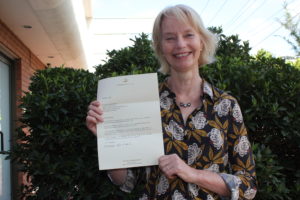 We are proud to announce that our CEO Jocelyn Bignold was honoured with an Order of Australia medal in the recent Australia Day awards.
Jocelyn, who has led McAuley since its formation in 2008, said that she was delighted though humbled by the recognition. 'There are already so many amazing people working for the good of our community – including McAuley's staff, Board, volunteers, donors and supporters.
'I've realised though, how special it is for us – it's recognition of our work at McAuley.
'The more I have the opportunity to speak on behalf of McAuley the more I am able to say how our teams put good ideas into practice, backing innovation with hard work, experimentation and constant improvement.
'This award is really about everything McAuley Community Services for Women has achieved, and everything we have dreamed of together to make the lives of women and children safer and better.
'The Sisters of Mercy, back in the 1980s, dreamed of  24-hour support for women and children leaving family violence.  Our Board dreamed of a state-of-the-art building for women who were  homeless , realizing that dream when we opened McAuley House. Staff dreamed of Court Support 4 kids and infant-led practice, women dreamed of McAuley Works, volunteers dreamed of the garden.
'Many of these are firsts in Australia, and I know we won't be done with our dreams until homelessness and family violence are eradicated in our community.'
Chair of the McAuley Board Sonja Hood said: 'This recognition is well deserved, and testament to Joce's extraordinary leadership both within McAuley and the sector more broadly. We are all delighted to see her celebrated in this way'.