McAuley launches new long-term crisis accommodation
October 27, 2022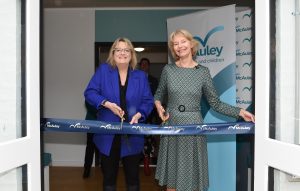 McAuley Community Services for Women has expanded its critical crisis accommodation for women and children fleeing family violence, with the launch of Heywood House.
The facility will provide victim-survivors with 14 units of accommodation, including seven family suites and seven single units. Each one has a kitchenette and views of either a garden or courtyard. Also on site are communal spaces for social interaction, a children's room and garden, and laundry, as well as areas where they can work with support staff, who are on hand 24/7, or attend online meetings and court hearings.
McAuley CEO Jocelyn Bignold OAM said these units can house 35 women and children for up to two months, which gives them more time to settle and work towards a more permanent solution.
"These units will give women and children the dignity of living independently and with privacy alongside access to on-site services and support," Jocelyn said.
"Heywood House creates a safe haven, where women and children receive individualised support and can recover and take some time before making decisions about their next move."
Places like Heywood House are becoming more important than ever. Every night in Victoria at least 98 women and children are accommodated in motel rooms – which is an inadequate response in comparison to the support a site like this can provide. Family violence is the biggest, and growing, cause of homelessness in Victoria with 30,921 women and 14,763 children presented to homelessness services in 2021–22 as result of leaving violence.
"Heywood House will allow women and families fleeing family violence to access immediate assistance, and also start putting plans in place to begin safely living their lives outside of our facility," Jocelyn said.
"We have a long history of providing a range of support services for women and children who have had long histories of trauma, family violence and mental illness," says Bignold. "As well as providing crisis and longer-term accommodation, we've developed initiatives that focus on working with survivors of family violence as they rebuild their lives. These extend to legal, financial, employment support of women as well as a focus on working with children to address their unique needs following trauma – including the support of their learning"
"Heywood House will allow us to continue and expand that important work."
The name Heywood House was chosen to honour Sheila Heywood, one of two Sisters of Mercy who founded McAuley's family violence operations. She and Wilma Geary set up Victoria's first 24/7 crisis service in North Melbourne in 1988.
Expanding appropriate accommodation options for women and children who are exposed to violence and homelessness is a core strategic pillar for McAuley, and later this year, a second facility with 12 additional units will open in Melbourne's west. This will be named after Wilma Geary.
The operation of Heywood House has been possible thanks to funding from the Victorian Government, which provided $69.1 million for refuge and crisis accommodation for victim survivors in its 2022–23 State Budget.