Opening up our next chapter
October 12, 2023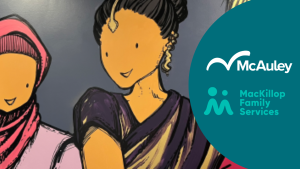 On 1st of October 2023 McAuley Community Services for Women (McAuley) became part of MacKillop Family Services (MacKillop) forming a single entity under the existing MacKillop ABN.
The McAuley name and brand remains, and existing programs continue, with Jocelyn Bignold OAM retaining the role of CEO, supported by McAuley's executive team.
In recent years there have been changes at Board level resulting from our founders, the Sisters of Mercy, transitioning to lay governance. The Mercy Community Services Australia Limited Board took the decision that the community service organisations established by the Sisters of Mercy should be combined, in an effort to streamline governance and maximise the benefits of collaboration.
McAuley's history of innovation and advocacy, and our commitment to an integrated approach, will continue, as will our focus on women and children experiencing family violence and homelessness. Our advocacy, fundraising and engagement with stakeholders and clients will also continue under the McAuley banner.
In most respects it is 'business as usual' with little visible change in how we go about our day-to-day work. The change will be seen mostly in behind-the-scenes support and operations, where our capacity will be expanded.
McAuley and MacKillop have held a close partnership in several areas for many years. This change will allow for a closer alignment of those functions while also bringing about a greater ability for McAuley to grow services.
MacKillop provides services for children and families through out-of-home care, education support and disability services. Their work and principles closely match with those of McAuley and share a common origin rooted in the work of Catherine McAuley.
Recovering childhood after family violence
In 2021-2022, more than 32,000 Victorian children were witnesses or affected by family violence.
McAuley's specialised children's program recognises the unique trauma of children experiencing...
Donate now
Help women like
How McAuley supports the mother-child connection
Homelessness and family violence can have powerful impacts on women's capacity to nurture and connect with their children.
Bonding with babies and nurturing young children can be difficult for mothers who are in a...
Donate now
Help women like
WEstjustice partnership leads to alleviation of crippling debts
Financial abuse is common in violent relationships, and can hold women back from leaving and establishing new lives.
The WEstjustice community legal service has achieved amazing outcomes in working with women to...
Donate now
Help women like
Children give our education program a big thumbs up
We've had some rave reviews for our tutoring program - from the kids themselves.
Donate now
Help women like
Natalie: 'now I never have to leave'
A journey from mental illness and homelessness to a new life
Now living in permanent housing in Footscray, Natalie has a sense of optimism about her future.
Donate now
Help women like
'My own place': Alice's new beginning
In 12 months, Alice has rebuilt her life and is now in brand new, and permanent, accommodation built by McAuley.
Sitting in her brand-new, light-filled apartment Alice looks back on the last 12 months and says...
Donate now
Help women like
'The hardest time of my life'
A young mum and her daughter are now safe together after family violence and mental health challenges.
Security, independence and stability – they're the words that 21-year-old Bella* uses to...
Donate now
Help women like
Yasmin's story: 'Baby steps' to a new beginning
Alone in a new country, Yasmin feared for her life after family violence.
While her new home is a 'dream' there were years when Yasmin's life, marred by family violence,...
Donate now
Help women like