'Making time' – COVID hasn't stopped our dedicated volunteers
December 7, 2020
When two new volunteers came on board to help us last year – one with a law degree and the other a doctor – you probably wouldn't have predicted that they'd end up running Bollywood classes.
But Jacqueline and Sadunee, two friends who despite very busy lives wanted to run a monthly activity for women living at McAuley House, were open to the idea that simply having fun was the best way of making a difference. Joining in with light-hearted and joyful Bollywood sessions has been enthusiastically embraced by several women. They have continued to offer the classes – via Zoom – since COVID-19 'threw a spanner in the works.'
Before this disruption, their first popular event was to run a pampering session and beauty night, which was very popular, with one woman saying; 'I've never had a facial before.'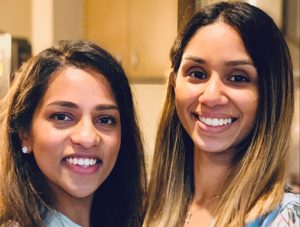 Since lockdown they've gone onto offer an online trivia night which, as well as being a huge amount of fun, sparked a friendly rivalry between McAuley Houses in Ballarat and Footscray. Despite some challenges in forming teams in lockdown environment, there was plenty of laughter; and quiz-master Jacqueline was even asked if she could please sing her music-related questions.
As to why these two women, with hectic careers, can somehow find time to volunteer with us, both agree that it's about giving back. Sadunee, a doctor who is passionate about women's health, had often encountered women who'd experienced family violence, and wondered 'what came next' after injuries healed and they went home. The two women also agree that it benefits them, just as much as the women.
'You learn to make time, and instead of stressing about a deadline, you realise there are people dealing with real problems. It's eye-opening, but it's also rewarding,' says Jacqueline.
They're both committed to keeping up their sessions since seeing the impact of these activities on women's morale during the tough lockdown period – and McAuley recognises and appreciates their efforts as well as more than 50 others who've helped us throughout this year.