Lights, camera, action!
April 27, 2019
Recently McAuley House Footscray welcomed the Gardening Australia team to help us overhaul our rooftop garden.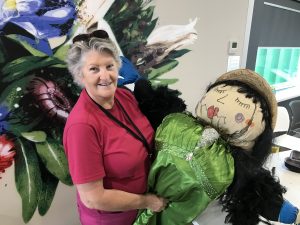 Over three days, the team from the ever-popular ABC gardening show shared their energy, creativity and expertise with us as they helped us revamp the space, which enjoys breathtaking views of the city – but with its sunny, exposed position, can also present gardening challenges.
The house soon became a hive of activity as new planter boxes and watering systems were installed, and the space was transformed into a place that is not only beautiful but sustainable.
The rooftop garden is adjacent to McAuley House's kitchen and dining room. The kitchen is the heart of the building – a place for community celebrations, and a hub for people to gather and share a meal together. For women who have experienced homelessness, as most living at the house have, it may have been many years since they enjoyed the simple pleasure of preparing a meal.
While the garden enjoys breathtaking views to the city, and herbs and small plants had previously been planted there, recently our Skills For Life program has been working with women living at the house to come up with ideas on how the space could be better used and more productive.
Being able to see a crop flourish and pick plants straight from the garden into the salad bowl or evening's dinner were all high up on the list of what the women hoped the garden would provide. After ideas for design were developed, the Gardening Australia team gave practical advice on the materials, tools and plants needed for the transformation. In preparation, women and children got busy painting large pots in vibrant colours.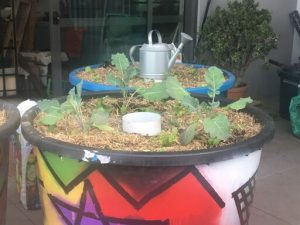 After months of planning, the Gardening Australia team arrived and set to work. It was definitely all hands on deck as their team worked alongside women, staff and volunteers, shovelling soil and compost, while presenters Jane Edmanson and Millie Ross (with her popular sidekick Squid the dog!) were generous in sharing their knowledge and tips. The filming process itself was fascinating to observe, with a drone being employed to give a birds-eye view of both the 'before' and 'after.'
We can't reveal the full extent of the transformation, but here's a tantalising peek at some of the work in action. Watch our social media feeds for confirmation of when the program will go to air.