Expansion of McAuley services a win for those escaping family violence
June 3, 2022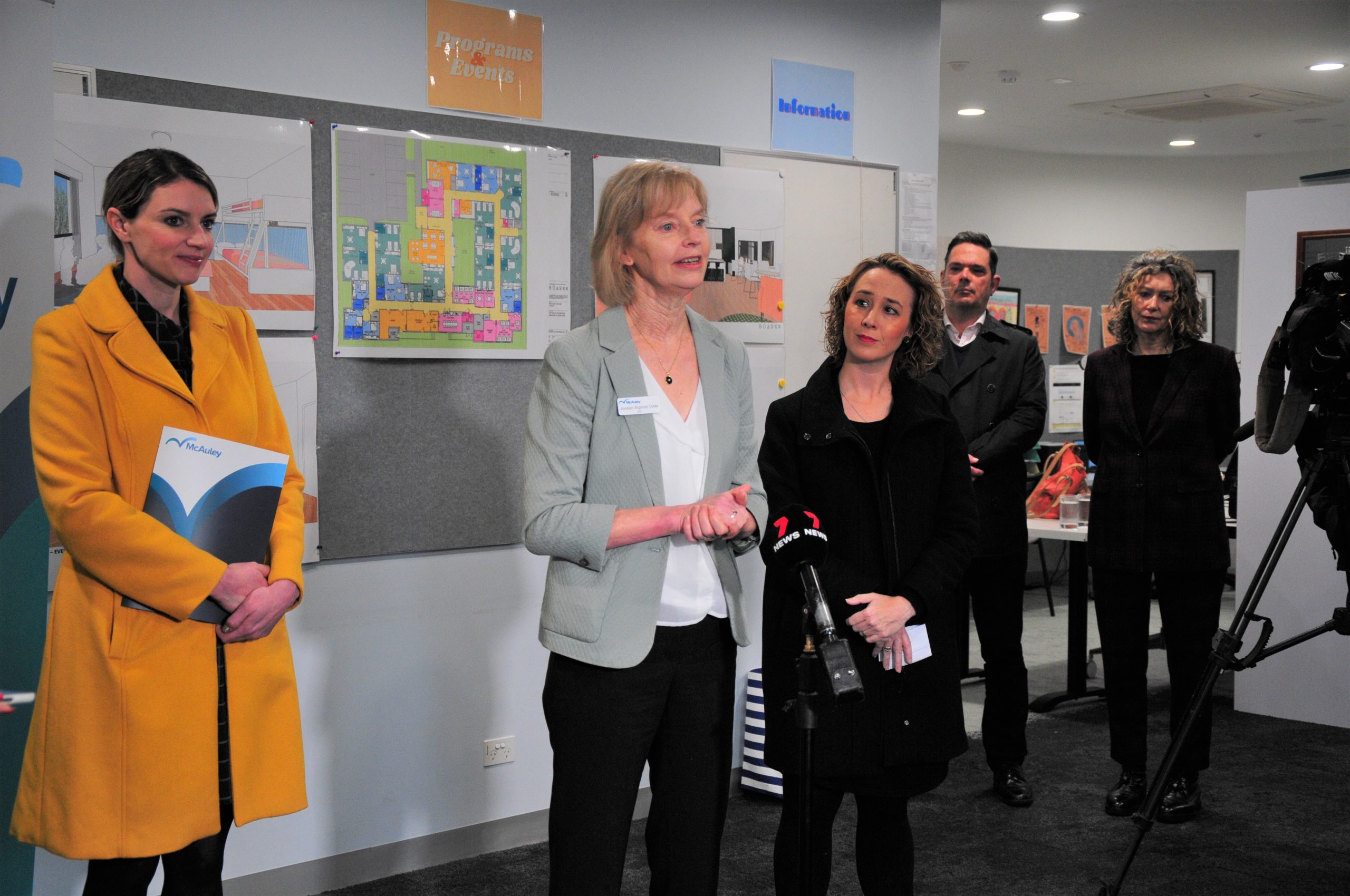 McAuley CEO Jocelyn Bignold addresses media following the welcome announcement by Minister for Prevention of Family Violence Gabrielle Williams (to her right), with the Member for Footscray Katie Hall (left), CEO of Berry Street Michael Perusco and Executive Director of Good Samaritan Inn (Melbourne) Felicity Rorke.
State-of-the-art crisis accommodation for women and children recovering from family violence or homelessness is set to open in Melbourne's West.
McAuley Community Services for Women (McAuley) expects to open the new facilities early August, providing expanded capacity and service provision, thanks to significant funding from the Victorian Government.
McAuley CEO Jocelyn Bignold welcomed the contribution announced in the recent Victorian Budget, saying it would provide more supported accommodation for women and children leaving family violence and expand McAuley's provision of wrap-around services to victim-survivors.
'This funding supports a significant expansion of our operations in Melbourne's West, providing seven family units and seven single units in the 'core and cluster' style recommended by the Royal Commission into Family Violence,' Ms Bignold said.
'Funding over a four-year period is vitally important – giving us the confidence to build the full suite of wrap around support into this model. This includes working closely with partners to provide legal, financial and health support and expanding the reach of McAuley's skill development, social inclusion, employment and child education support services, all underpinned by being in a safe place to rest and think.'
The Royal Commission recommended phasing out the communal refuge model and replacing it with accommodation that provides private units, is accessible to people with disabilities and enables connections with the community, work and school.
Units in McAuley's Sunshine development will include:
Individual kitchens
Flexible configurations to scale up or down depending on family sizes
Ensuites, with disability-friendly amenities
Access to 24/7 specialist family violence support
In the 20-21 financial year, McAuley supported 432 women and 363 children by providing family violence accommodation and support services, homelessness and employment services.
'McAuley knows how long it can take for women and children escaping violent homes to feel secure enough to be themselves and engage with the world again,' Ms Bignold said.
'One woman who is now in employment after working with McAuley Works, first came to us from motel accommodation that was just 15 minutes from the home where she had experienced threats, coercion and violence from her husband.
'She was in that hotel room because of a shortage of crisis beds and had to fight to remain in that less-than-ideal place every seven days.  She told us she slept fully clothed with a cutlery knife beside her pillow and only used food vouchers in local shops when she was overwhelmed with hunger for fear of running into the man she had just escaped.
'This partnership with the Victorian Government allows McAuley to offer more crisis accommodation together with the individualised support that can help women to focus on rebuilding their lives rather than merely survive from day to day.'
Media information: 
Learn more about McAuley Works
Read how one woman broke a cycle of homelessness through McAuley Works
For more information on the woman referenced in this release, see Alia's story
Find out more about our learning support program for children who might be struggling because of family violence or other traumas