Celebrating our volunteers: meet Tracey
May 18, 2023
It was a lucky day for McAuley when a year or so ago Tracey Maney happened to be shopping at Westfield Airport West. 
She noticed there were displays honouring local community heroes. One of these was for McAuley CEO Jocelyn Bignold. Stopping to read about McAuley's work Tracey immediately felt this was something she'd like to be part of. After getting home and researching what McAuley is all about, she felt sure that this was the volunteering opportunity she'd been looking for.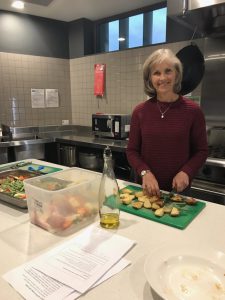 'I'd been looking to do something after retiring from my job as a massage therapist,' says Tracey. But then COVID hit and volunteering everywhere became vastly constricted or moved online. While during that time she did some teaching sessions via Zoom for providers of English as a Second Language courses, she preferred to be doing something with a human connection. 'McAuley really seemed to tick all the boxes,' she says. 
Tracey now comes to McAuley one night per fortnight helping to prepare the evening meal for women living at McAuley House Footscray. The 25 living there at any one time have all experienced longer-term homelessness. Getting to know them and their stories, Tracey has noticed how diverse their stories of  becoming homeless are, and is impressed by the journeys she has already seen some of them take to better health and stability. 
'Everyone wants an opportunity to thrive,' Tracey says. 'The women are very caring and supportive of each other, and there's always happiness and joy when someone is about to move on to independent living. They often come back to say hello. There's a real community there, and I enjoy being part of it. 
'McAuley House is an uplifting place. It's bright, inclusive, positive, and I'm so impressed by the dedication of the staff.' 
After helping with meals on her volunteering night, Tracey also offers a guided meditation course to help with relaxation, techniques which can be very helpful for women who've often gone through considerable trauma. 
She somehow fits in volunteering with a busy life that involves older parents, grandchildren, and playing sport. As well as her regular night at McAuley she has answered the callout for other times when McAuley has needed something extra. Yet, as with so many of our volunteers, Tracey believes that she's getting back more than she gives. 'I am just enjoying being part of it and seeing women grow in confidence and rebuild their lives'.