A safe space for healing and empowerment
January 19, 2023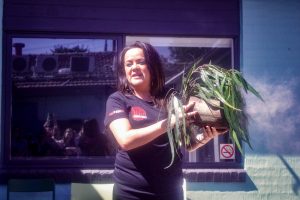 Heywood House, McAuley's new family violence crisis accommodation, is a place where women can begin to heal and find the strength to move forward in their lives, free from violence.
Conducting a Welcome to Country and smoking ceremony at Heywood House, Stacie Piper, a Wurundjeri woman, praised the new facility and the collaborative work underway to break the cycle of family violence and resulting homelessness among women and their children.  
"I'm so impressed with this space – it's all about building the strength of women," says Stacie. "I know we all wish there could be something like Heywood House in every suburb, even though it's just so sad that places like this are needed at all. 
"Sadly, family violence crosses lots of cultures and places like this are about empowering women to find their strength and use their voice." 
Heywood House is comprised of 14 self-contained and fully furnished accommodation units – seven family suites and seven single units. The facility also has beautifully appointed communal spaces for social interaction, a children's room and covered outdoor play area, and private meeting rooms where women can work with members of McAuley's frontline support team, who are on hand 24/7, or attend online meetings and court hearings. 
Australia's First Peoples have been using smoking ceremonies for thousands of years to cleanse people and places of bad spirits and to encourage good health and wellbeing.
McAuley CEO, Jocelyn Bignold OAM, says it was timely to hold a traditional smoking ceremony to symbolically cleanse Heywood House's living, meeting and gathering spaces.  
"The ceremony marked the end of a long journey to completion; the realisation of a vision held by McAuley's Board, staff and contractors," says Jocelyn  
"Now, we're embarking on a new journey as families fill the units and, together, we learn how this new place works for all who occupy it." 
Family violence is the biggest, and growing, cause of homelessness in Victoria, contributing to almost 31,000 women and 15,000 children presenting to homelessness services in 2021–22. Every night across the state around 100 women and children end up staying in motel rooms because of a lack of appropriate accommodation. 
Heywood House will give women who have experienced family violence the chance to rest and recover enough to plan their next steps – in safety and comfort.