A Mothers' Day reflection
May 4, 2020
A reflection by our CEO Jocelyn Bignold
'I feel like a mum again,' Kristy* told us last year. Her connection with her young children had been disrupted by extended period of homelessness, two stints in prison, and long-running struggles with addiction. Living at McAuley House Ballarat, she had somewhere safe and welcoming for them to visit at last. And just knowing she could see her kids regularly was giving her extra determination to stay the course in her recovery.
Right now, we're being bombarded with Mothers' Day advertising campaigns. Idealised messages about perfect mothers and 'spoiling' mum on her special day are everywhere. These must be jarring and distressing for many women such as Kristy. After losing contact with their children, some wonder if they can still even call themselves mothers. For them, the sense of loss amongst all the glorification of motherhood takes place can be acutely painful.
Mina*, another woman we're supporting, didn't even know that one of her young children had died unexpectedly after she'd escaped family violence and was sleeping rough. While she is now living at McAuley House Footscray, the anguish of the continuing separation from her surviving child is very real. At last year's McAuley Christmas celebration, the happiness and excitement of the children present was very difficult for Mina to bear; she needed to leave the party early, because seeing other mothers with their children reminded her too much of all that she has lost.
More than half of the women supported by McAuley are mothers. Sometimes, their bonds with their children have been eroded because of experiences of family violence, including situations where children remain with the perpetrator, or by interventions from Child Protection agencies. Accumulated experiences of trauma, homelessness, poverty as well as mental health issues can mean some women's capacity to  maintain safety and stability for their children is compromised. The heartbreak if that loss becomes permanent is not only felt by the mothers; it's likely to have deep and profound consequences for their children as well.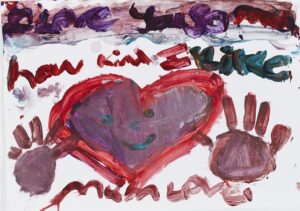 In the leadup to Mother's day, an expert in mother-child bonds and children's experience of family violence, Sr Nicole Rotaru, will be working with some of our clients who are mums – allowing them to give voice to their feelings about their identities as mothers. These sessions, like so many things in this time of coronavirus, will be conducted online.
Many of us will be having very different Mothers' Days this year, missing the usual hugs and get-togethers. It is perhaps a small window into what McAuley mums deal with every day. It's inspiring to know, though, that McAuley's focus on strengthening those powerful bonds can be transformative, or help others to heal. On Christmas Eve last year we were contacted by a young mum Terri*, who'd previously lived in McAuley House for many months. She shared a joyful photo of herself hugging her young child, who after a long period of separation would at last be spending Christmas Day with her. She wanted us to know she was free of addiction, on top of her mental health issues, had a job … and now had the greatest incentive and motivation of all to rebuild her life.
*real names not used
If you are able to assist the mothers that are supported by McAuley to have a brighter Mothers' Day during this difficult time of the coronavirus, please visit our donations page to find out how you can help.