Vivid portraits of the emotions of women and children who have experienced family violence
Smarty pants, kitty or tiger?, a book authored by Sr Nicole Rotaru RSM, a founding member of McAuley's first Board, social worker and art therapist, is a collection of artwork of children and mothers staying in our safe house.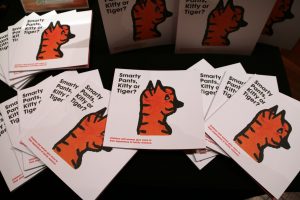 Smarty Pants, Kitty or Tiger? gives a first hand, intimate, disturbing, and sometimes hopeful insight into living within family violence. Women and children who have lived within family violence give voice to their experience through art and story as part of a creative arts project at McAuley Community Services for Women's safe house.
In her foreword to the book, Victoria's Commissioner for Children, Liana Buchanan wrote:
'We are also starting to acknowledge that for too long children have been silent, invisible victims of family violence. We know children are affected by violence at home in myriad ways.

We know children need access to specialised attention and services to help them to deal with, recover from, the impacts of violence. We know we must do better at supporting children and young people living with family violence.
Women and children speak loudly through their images and stories.
Lindy exclaims, 'He had his hands around my neck. I thought I was going to die. Oh my gosh today is the day I will become a statistic – another woman killed!'
David says, 'There are a lot of baddies coming.' Ella says, 'Tiger is looking at a deer or elk. He's going to catch his prey. He's going to tear it apart.'
For more information about this book or to order copies, contact us at 03 9362 8900.
Thanks to the Campbell Edwards Trust, Mercy Foundation and Institute of Sisters of Mercy Australia and Papua New Guinea for their support of this project.