'Becoming the person I always wanted to be'
Recovering childhood after family violence
In 2021-2022, more than 32,000 Victorian children were witnesses or affected by family violence.
McAuley's specialised children's program recognises the unique trauma of children experiencing...
Donate now
Help women like
How McAuley supports the mother-child connection
Homelessness and family violence can have powerful impacts on women's capacity to nurture and connect with their children.
Bonding with babies and nurturing young children can be difficult for mothers who are in a...
Donate now
Help women like
WEstjustice partnership leads to alleviation of crippling debts
Financial abuse is common in violent relationships, and can hold women back from leaving and establishing new lives.
The WEstjustice community legal service has achieved amazing outcomes in working with women to...
Donate now
Help women like
Children give our education program a big thumbs up
We've had some rave reviews for our tutoring program - from the kids themselves.
Donate now
Help women like
Natalie: 'now I never have to leave'
A journey from mental illness and homelessness to a new life
Now living in permanent housing in Footscray, Natalie has a sense of optimism about her future.
Donate now
Help women like
'My own place': Alice's new beginning
In 12 months, Alice has rebuilt her life and is now in brand new, and permanent, accommodation built by McAuley.
Sitting in her brand-new, light-filled apartment Alice looks back on the last 12 months and says...
Donate now
Help women like
'The hardest time of my life'
A young mum and her daughter are now safe together after family violence and mental health challenges.
Security, independence and stability – they're the words that 21-year-old Bella* uses to...
Donate now
Help women like
Yasmin's story: 'Baby steps' to a new beginning
Alone in a new country, Yasmin feared for her life after family violence.
While her new home is a 'dream' there were years when Yasmin's life, marred by family violence,...
Donate now
Help women like
'This place feels like home,' says Roma*, five weeks after moving into brand-new — and more importantly permanent — housing built by McAuley. 'Now I feel like I'm becoming the person I always wanted to be. I'm not that angry, anxious person anymore.' 

Roma recently worked out that she'd moved house 30 times. Often she didn't even bother to unpack her boxes of possessions, knowing she'd soon be on the move again. But even though she's only been living in her new apartment at Wilma Place a short time ago, she knows that this time, those boxes can finally be unpacked. 
'No-one can take this place off me,' says Roma. 'I'm calm, sleeping better, able to think about what I want to do in the future, instead of just day-to-day survival.' 
It's a journey that has taken five years, and began when Roma first moved into McAuley House. Though she had been 'housed' before she arrived, that roof over her head had not brought her safety. In fact it had exposed her to trauma and fear, leading to a struggle with mental health and addiction. 
Living in accommodation from a community housing provider, Roma was subjected to day-to-day abuse from male residents, who were often still using drugs and violent and aggressive. Her car was graffitied and destroyed. Sometimes she didn't want to leave her room knowing she had to run the gauntlet of being abused and taunted.  
She was even afraid at times to run her shower as this would alert her neighbours that she was home, and the hostile behaviour and harassment would ramp up. There was no support or monitoring of these terrifying behaviours. 
'Sometimes I slept in the local park to avoid going home,' says Roma. 'Before I went there, I'd slept rough under a bridge at Southbank for a few months. Believe it or not, I actually felt safer there.' 
Coming to McAuley House, where there was women-only accommodation and 24-hour support, had an immediate impact. 'I felt safe, looked after, and nurtured. For the first few weeks, it was just enough to relax, find my feet, and begin to heal,' she says. 
Roma was given space, and time, to do just that. 'There was a beautiful community. It was amazing how much I grew in a short amount of time. I got involved in an ABC Gardening Australia project to revamp the House's rooftop garden. I also really loved taking part in a group "Women's words" which helped us give voice to our experiences'. 
Meditation and art therapy were other activities that Roma enjoyed – all part of slowing down, being in the moment, and helping to let go of her thoughts and traumatic memories. She especially appreciated that these were all available within the house. And sharing with others who knew, and had also experienced difficult times, helped as well. 'We became a sisterhood. I made friends, and we still meet up sometimes for coffee and cake.' 
After 18 months, Roma felt ready for independent living. She moved into transitional housing, and continued to have support and connections with McAuley. An NDIS package has given her further assistance with her mental health and daily activities. And now this latest move to Wilma's Place means she has somewhere she can really call her own. 
'It's been a weight off my shoulders. It's also a great feeling to know my neighbours are all women who've gone through things like me, and we are all moving forward.'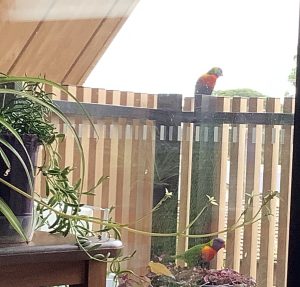 With both things in place – mental health support AND secure housing, Roma now looks forward with optimism. Knowing she has a permanent lease, she was able to splash out on a new couch. And, as a lover of gardening, she enjoys seeing rainbow lorikeets regularly visiting her balcony where she is growing plants. She wants now to help others as a volunteer, perhaps at an animal shelter or nursing home. 
'I'm eternally grateful for everything McAuley has done for me. I just hate to think where I would have ended up, if this help had never came along.' 
*name has been changed